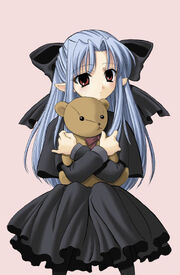 Vladimir Nabokov's wacky road-trip romance chronicling the misadventures of erudite pedophile Humbert Humbert and his stepdaughter/girlfriend/kidnappee Dolores Haze. Chock-full of convoluted wordplay, multilingual puns, and allusions to everything from entomology to Edgar Allen Poe. Originally written in English and set in the US, but had to be published in France as pornography because no one else would touch it. Nabokov himself pointed out that this is probably the main reason why parents don't name their daughters "Lolita" any more.
Adapted into two films, one by Stanley Kubrick, the other by Adrian Lyne. Other adaptations include the Broadway musical Lolita, My Love. Trope Namer for Elegant Gothic Lolita and Badass Lolita (now known as Little Miss Badass), even though this is not an example of either, and Lolicon, which it is.
---
Contains examples of:
Edit
Ad blocker interference detected!
Wikia is a free-to-use site that makes money from advertising. We have a modified experience for viewers using ad blockers

Wikia is not accessible if you've made further modifications. Remove the custom ad blocker rule(s) and the page will load as expected.